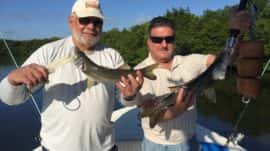 Been getting Permit and pompano on a consistent basis on my Fishing Charters in Tampa Florida.  Best day of pompano was 7 and best permit day was 14.  Pretty cool!   Cobia have also been consistent!   Best fish was 60+lbs and a consistent school of 30-40lbs are on the trip shot every time!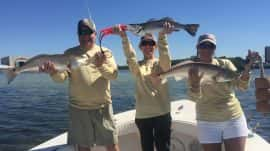 Redfish Fishing In Tampa Florida is Real good with over slot and in slot fish a regular trip situation! We are getting the fish on all sorts of baits but you have to be creative lately with the temperature swings and wind.  I am getting it done though!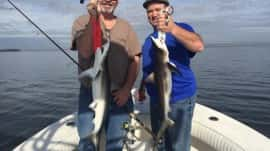 Shark Quadruple hook ups, double hooks on Spinner and Black tip.  Giant Bull sharks.  Silky Sharks on top water artificial lures.  Great Times in Tampa Florida Flats Fishing in Tampa has been great too.  Redfish, snook and trout are great to eat and fun to catch! Jack Crevalle in the 18lb range are real tackle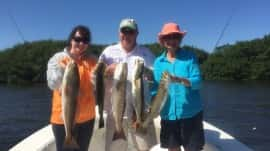 Triple Trout over 23 inches to 27 on one cast!  I know you don't believe it but it is true!   I have video go to youtube and search David N. Beede Jr, Shallow Point Fishing Charters or Shallow Point Charters and you will see.   Awesome fishing Limited out in the first 30 minutes of getting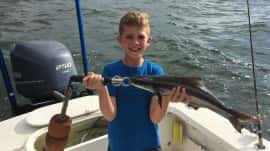 This child whooped up the fish right before the storm came!   Good fishing for sure!  Cobia, Shark, mackerel, redfish, Snook, Snapper and etc…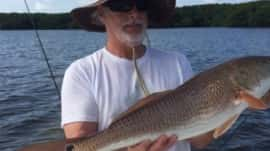 Where ever you are staying it is worth a few minutes drive to get a shot in on this bite!   Great day for sure!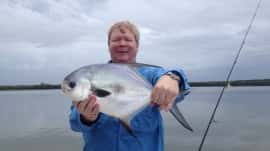 We blew up the bull shark and one point had 4 different shark on one cast and then boated the last one. I know, I know… Bull right! Top water in the cold before the rain no way. Well I can tell you that I have the phone number of the clients and if you
Tagged under:
Best fishing charter Tampa
,
Charter Fishing Trips
,
Charter Fishing Trips Tampa
,
Charters Fishing Tampa
,
Charters Fishing Tampa Bay Florida
,
Find Charter Fishing Tampa
,
Find Fishing Charter Tampa
,
Fish Charter Tampa
,
Fish On Charters
,
Fishing Boat Charter
,
Fishing Boat Charters
,
Fishing Charter Boats Tampa
,
Fishing Charters in Tampa
,
Fishing Charters Tampa Bay
,
Fishing Vacations
,
Ocean Fishing Trips
,
Raymond James Financial
,
Shark Fishing Charters
,
Shark Fishing Tampa Bay
,
St Pete Fishing
,
St Pete Fishing Charter
,
Tampa Charters Fishing
,
Tampa Fishing Boat Charters
,
Tampa Fishing Charter
,
Tampa Fishing Guide
,
Tampa local Charter
,
Tampa Tarpon Fishing