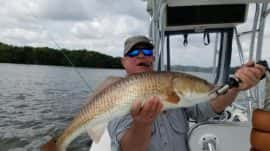 We went from catching sheepshead and snapper to catching redfish snook trout and large ones at that!   Big Jack Crevalle too!   Good times in Tampa Florida   Slams are on for the month of April! IMG_3842
Published in

Black Drum, Cobia, Flounder, Jack Crevalle, Redfish, Shark, Snook, Spanish and King Mackerel, Spotted Sea Trout, Tampa Fishing Charters, Tarpon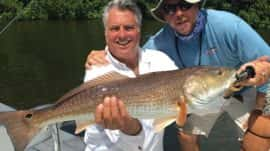 Fishing Tampa Florida in the Bay and flats has been spectacular! Fishing Guide as a full time job in Tampa Bay, St. Petersburg and Clearwater we have been getting tons of snapper, mackerel, big trout, snook, shark and red fish.   Tops slots fish as well as huge reds to 15 lbs.  Monsters!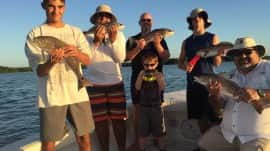 This months Report:  Fishing The Flats Bay and Nearshore waters has been real good on the incoming tide.  Not so much on the dead low when there is negative water. It is very hard to get to the fish and they are really spooky!   But give them some fresh moving water and some live frisky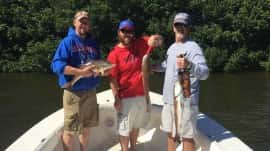 You just gotta love redfish snook and trout all day!  These guys did too!  Come out and fish until you are sore in the arm and gut!  These fish pull and pull and pull !  It is up to you to get them to the boat!
Tagged under:
33547
,
33565
,
33609
,
33611
,
33626
,
33629
,
33634
,
34677
,
Fishing
,
Fishing Charters
,
Fishing Guide
,
Fishing Trips
,
Flats Fishing
,
Professional Fishing Guide