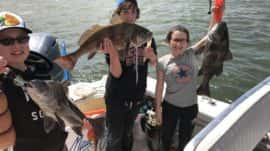 Flats bay and nearshore fishing has been pretty intense!   it was warm and the snook redfish and trout were eating just about everything.  Then the winds picked up it went from 87 degrees down to 37 degrees with 30knt winds.   I mean we still caught the fish with positive anglers thinking we can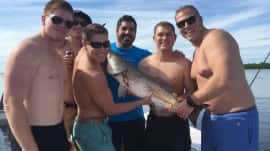 It has been hot and the fishing and the Flats Slams are in full swing even in the cruddy weather!   It usually clears up by the end of the day and everyone has a ton of fun!  I call it stitching the day!   A day when most go home or stay on the couch.  We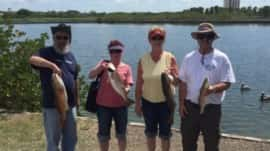 These Clients were as patient as can be! We got our fill of trout and redfish and a spectacularly beautiful day weather wise! The water is clear the sand is white and the grass is green! I love this!!!
Published in

Black Drum, Jack Crevalle, Permit, Pompano, Redfish, Shark, Sheeps Head, Snapper, Snook, Spotted Sea Trout, What to Do in Tampa Bay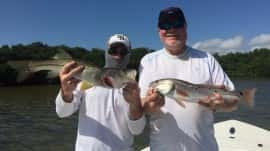 When the Client is one of your buddies and his father is a great guy fishing is not fishing anymore! It is getting together to go out on the boat! Together! I like that!!!!! We got some pompano, Jack, Redfish, Snook and we were casting at Tarpon! Pretty cool all around!