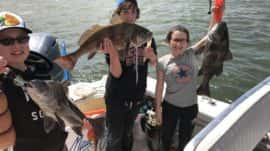 Flats bay and nearshore fishing has been pretty intense!   it was warm and the snook redfish and trout were eating just about everything.  Then the winds picked up it went from 87 degrees down to 37 degrees with 30knt winds.   I mean we still caught the fish with positive anglers thinking we can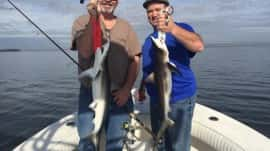 Shark Quadruple hook ups, double hooks on Spinner and Black tip.  Giant Bull sharks.  Silky Sharks on top water artificial lures.  Great Times in Tampa Florida Flats Fishing in Tampa has been great too.  Redfish, snook and trout are great to eat and fun to catch! Jack Crevalle in the 18lb range are real tackle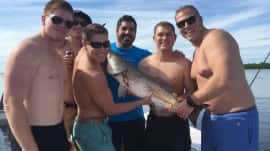 It has been hot and the fishing and the Flats Slams are in full swing even in the cruddy weather!   It usually clears up by the end of the day and everyone has a ton of fun!  I call it stitching the day!   A day when most go home or stay on the couch.  We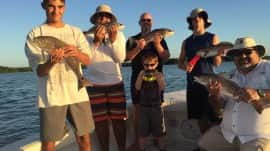 This months Report:  Fishing The Flats Bay and Nearshore waters has been real good on the incoming tide.  Not so much on the dead low when there is negative water. It is very hard to get to the fish and they are really spooky!   But give them some fresh moving water and some live frisky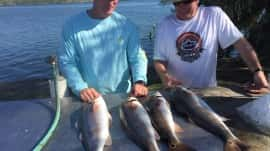 IF you like catching now is the time to do it!   I have been pretty busy so that works out catching snook, redfish, trout,
Published in

Black Seabass, Cobia, Flounder, Permit, Pompano, Redfish, Sheeps Head, Snapper, Snook, Spanish and King Mackerel, Spotted Sea Trout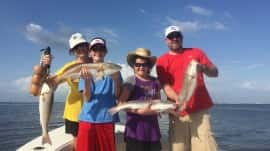 Gotta love it when we limit out on Redfish and all sorts of goodies in the Flats of Tampa Bay Florida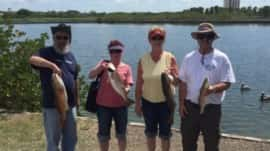 These Clients were as patient as can be! We got our fill of trout and redfish and a spectacularly beautiful day weather wise! The water is clear the sand is white and the grass is green! I love this!!!
Published in

Black Drum, Jack Crevalle, Permit, Pompano, Redfish, Shark, Sheeps Head, Snapper, Snook, Spotted Sea Trout, What to Do in Tampa Bay