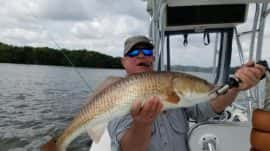 We went from catching sheepshead and snapper to catching redfish snook trout and large ones at that!   Big Jack Crevalle too!   Good times in Tampa Florida   Slams are on for the month of April! IMG_3842
Published in

Black Drum, Cobia, Flounder, Jack Crevalle, Redfish, Shark, Snook, Spanish and King Mackerel, Spotted Sea Trout, Tampa Fishing Charters, Tarpon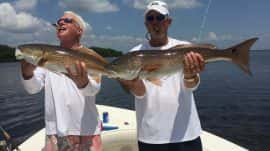 Won two division top slot slams for Snook, Redfish and Trout for the Johnny Ferlita Pediatric Cancer Tournament.   The Woman and Kid division were my clients winning.  They got some cool hardware! Shallow water fishing at its finest.  Slams, Slot fish, etc..   Reds, Snook, Trout,Tarpon, Shark, Mackerel, Cobia, and more.
Published in

Black Drum, Black Seabass, Cobia, Fishing Charter Tampa Florida, Fishing Guide Florida, Fishing Guide Tampa Bay, Fishing Trips Tampa Bay, Flounder, Gause Built Boat, Jack Crevalle, Kids Fishing, Permit, Pompano, Redfish, Shark, Snapper, Snook, Spanish and King Mackerel, Spotted Sea Trout, Tampa Fishing Charters, Tampa Fishing Guide, Tarpon, Tournament Fishing, What to Do in Tampa Bay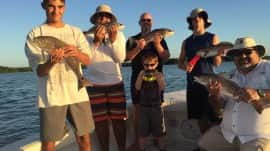 This months Report:  Fishing The Flats Bay and Nearshore waters has been real good on the incoming tide.  Not so much on the dead low when there is negative water. It is very hard to get to the fish and they are really spooky!   But give them some fresh moving water and some live frisky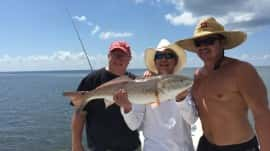 Fishing takes time and determination sometimes.  Sometimes you need to do the right thing at the right time.  Fish were all around us and the distance from the boat was the key to success!  This client got a 33 incher and boy was it a fight!