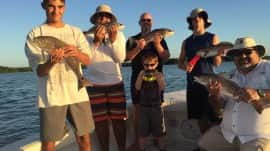 This months Report:  Fishing The Flats Bay and Nearshore waters has been real good on the incoming tide.  Not so much on the dead low when there is negative water. It is very hard to get to the fish and they are really spooky!   But give them some fresh moving water and some live frisky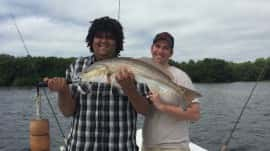 The big guy did it and caught the heck out of redfish, snook and trout! We got into the mackerel thick! Some real big ones for sure 4-5 lbs. Heck of a trip!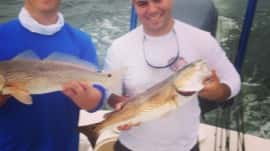 How would you like to go out and limit out on redfish then go get mackerel and some snapper and maybe a slot snook! If that sounds good call me and we will do our best to make it happen!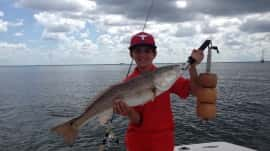 These kids came out fishing with their parents and had a blast.  We recorded the first cast redfish on light tackle and this is what we got!   love it when we do exactly what I say we are going to do!   It feels really good!!!