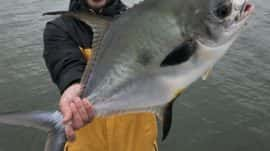 Fishing has been epic in Tampa Florida!  I get calls people asking can I catch shark and I say sure!  Hammer Head sharks, Bull Sharks, Black Tip, Bonnet and Spinner sharks.  These are large fish!   Done!   Can we catch Tarpon….No I would not guarantee it but we have been jumping them!   Check out the smile
Published in

Black Drum, Cobia, Fishing Charter Tampa Florida, Fishing Guide Florida, Fishing Guide Tampa Bay, Gause Built Boat, Grouper, Jack Crevalle, Permit, Pompano, Redfish, Repeat Client, Shark, Sheeps Head, Snapper, Snook, Spanish and King Mackerel, Spotted Sea Trout, Tampa Fishing Charters, Tampa Fishing Guide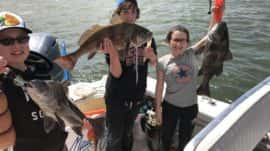 Flats bay and nearshore fishing has been pretty intense!   it was warm and the snook redfish and trout were eating just about everything.  Then the winds picked up it went from 87 degrees down to 37 degrees with 30knt winds.   I mean we still caught the fish with positive anglers thinking we can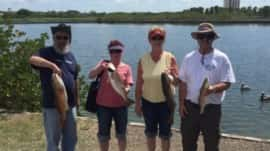 These Clients were as patient as can be! We got our fill of trout and redfish and a spectacularly beautiful day weather wise! The water is clear the sand is white and the grass is green! I love this!!!
Published in

Black Drum, Jack Crevalle, Permit, Pompano, Redfish, Shark, Sheeps Head, Snapper, Snook, Spotted Sea Trout, What to Do in Tampa Bay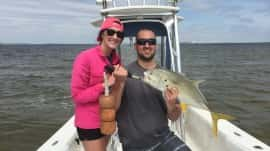 This couple went fishing and it was cold in the morning and got really warm. Right when the sun popped out we caught Permit, Jack and Pompano! Great day sight fishing for really large fish! Go fishing folks it is awesome out there!
Tagged under:
Best fishing charter Tampa
,
Charter Fishing Trips
,
Charter Fishing Trips Tampa
,
Charters Fishing Tampa
,
Charters Fishing Tampa Bay Florida
,
Deep Sea Fishing
,
Deep Sea Fishing Trips
,
Find Charter Fishing Tampa
,
Find Fishing Charter Tampa
,
Fish Charter Tampa
,
Fish On Charters
,
Fishing Boat Charter
,
Fishing Boat Charters
,
Fishing Charter Boats Tampa
,
Fishing Charters in Tampa
,
Fishing Charters Tampa Bay
,
Fishing Vacations
,
Ocean Fishing Trips
,
Shark Fishing Charters
,
Shark Fishing Tampa Bay
,
St Pete Fishing
,
St Pete Fishing Charter
,
Tampa Charters Fishing
,
Tampa Deep Sea fishing
,
Tampa Fishing Boat Charters
,
Tampa Fishing Charter
,
Tampa Fishing Guide
,
Tampa local Charter
,
Tampa Tarpon Fishing